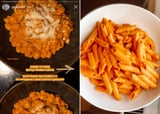 Last week, Gigi Hadid posted a recipe for spicy vodka pasta in her Instagram Stories, and I was instantly inspired. Pasta is one of my all-time favourite dinners, and considering the fact that I eat it at least two or three nights of the week (don't judge me), I consider myself a pro when it comes to cooking delicious sauces.
But I have to admit, I hadn't tried a spicy vodka sauce before. At the end of 2019, I finally made the trip to Carbone in New York City, which is a traditional Italian restaurant that serves a spicy vodka rigatoni dish that costs a cool $32 (£25). It's worth every penny (I'll just put that out there up front) and is, hands down, one of the top five pastas I've had in my life. I never thought I'd be able to recreate it at home, and I certainly never thought it'd be Gigi Hadid that helped me get one step closer to that dream.
When I saw Gigi post the step-by-step recipe on her Instagram Stories, I instantly decided to give it a go. I had most of the ingredients in my kitchen, and after forcing my boyfriend to go to the corner shop to buy a packet of penne pasta (the closest we could get to rigatoni), I was ready to go. I followed Gigi's recipe to the letter, and the result was actually bloody delicious, and definitely reminiscent of the Carbone classic. Of course, even I have to admit nothing will come truly close to sitting in Carbone's plush leather booth with a fork in one hand and a Negroni in the other, but eating it on the couch in my London flat while doing a pub quiz with my friends over Zoom came pretty close.
Ahead, see how I recreated Gigi Hadid's spicy rigatoni pasta at home.