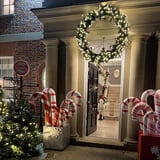 With Christmas fast-approaching, the age-old debate about when to put up the tree arises – just how early is too early? While psychologists confirm that those who put up decorations earlier are happier, attention then turns to how we should decorate. To tinsel or not to tinsel? Coloured or white lights? Is a giant Santa display outside the front door too much? That's where a professional Christmas decorator comes in handy.
Adele Gregson, managing director of The Christmas Company, has brought festive cheer to celebrities and luxury venues for the last 12 years. You didn't honestly think the likes of Molly-Mae Hague is sat untangling fairy lights while arguing with Tommy Fury about where to place the tree this year, did you? No, that's the work of Gregson, who has the former "Love Island" couple as her clients, as well as Cristiano Ronaldo and London's fanciest hotel, The Ritz.
"I have always been a massive fan of Christmas and interior design," Gregson tells POPSUGAR. "Every year when I decorated my own house for Christmas, it often received lots of compliments with people asking how I did it. This made me think 'wow what a brilliant idea' as I was obsessed with Christmas. I've always had lots of trees and would go all out in my own home. I would drive to London and across the country looking for inspiration that no one else had. It's something I enjoy, it feels effortless, and never like work."
Gregson has offered her top tips for festive decorating this year, from the biggest trends to the absolute no-nos so that you can make your home the winter wonderland you always dreamed of.
Christmas Colour Trends 2023
"A lot of people are going for more unusual colours this year, not the typical red and gold," Gregson says, while referencing teal, toffee, and monochrome as key trends. "Black & white has become very popular, as well as black and gold, or navy and gold. Intricate décor, glass baubles, and attention to detail is key and what is most requested by our clients."
Christmas Decorating No-Nos
Sorry tinsel fans, but it's no longer necessary to cover your tree in the shiny stuff. "Ideally, avoid multi-coloured lights and coloured tinsel as this can make your décor look cheap and outdated," Gregson says. "Colourful decorations can be great for achieving a vibrant look, but following a specific colour palette will avoid clashes and your décor looking too busy."
Gregson's biggest tip is when in doubt, do less. "Another big no when decorating a tree is overloading it with fabric or deco mesh. It can ruin the entire look of the tree."
Christmas Lights
We've all been there, untangling last year's festive lights for so long that your hot chocolate has gone cold and you regret ever starting the decorating. But they really do make a space magical. "Do the squint test – stand back from your tree, squint your eyes, and see if they look even. If not, then amend. This is the simplest and easiest way to ensure your lighting is right!" Gregson says. "Create depth by placing some lights deeper into the branch, too."
Gregson also says it's worth investing in good quality lights as they will last you year after year. And try to hide the plugs and wires as much as possible.
Christmas Decorating Beyond the Tree
"Our living room doesn't have to be the only place that's filled with Christmas décor, give your door a chance to shine by adding wreaths, bells, ribbons, and mistletoe," Gregson says. Bring the festive cheer to the rest of your home with garlands on bannisters, baubles around mirrors, or even some Christmas bedding.
"A big fluffy bow is a simple way to decorate your door that's affordable and easy to do," Gregson adds. "I love adding wicker baskets to the front and filling it with festive items such as bells, stockings, pine cones, and faux gift boxes. To make your front door more child friendly you could add candy canes, snow men, ginger bread, and stars."