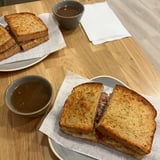 Marks and Spencer knows how to do festive food. From the ultimate picky bits for a beige buffet to the iconic Colin the Caterpillar celebratory cakes, the British brand has become the ultimate Christmas haven for foodies. And, like Starbucks' Ghost Fracppucino, the retailer isn't adverse to a viral craze or two, either. 'Tis the season for a TikTok must-have: enter the Turkey Gravy Dipper.
Launched on 1 November in M&S Cafés, it takes the delicious turkey toastie to another level. Between the toasted bread is ham hock, British turkey, stuffing, gravy, cranberry ketchup, and Emmental cheese. But the pièce de résistance? An extra pot of gravy to dip into.
TikTok user @lucyabigaill took to the platform to show off the sandwich and it's already racked over 1.8 million views, with comments committing to trying it for themselves. But does it really live up to the hype? Or is it a lot of festive fuss over a mediocre sandwich? Just like we tried the Percy Pig frappucino when it first launched, we headed to the M&S Café to try it for ourselves.
M&S Turkey Gravy Dipper Review
First thing's first, we need to take a moment for the smell of this toastie. It was immediately drool-inducing. The piping hot toastie smells like Christmas day on a plate, with hints of cranberry and stuffing powering through. Maybe it's just that my festive juices are flowing already, but I've rarely been this excited to have a bite of anything.
The melty cheese pull was extremely satisfying and the soft, juicy fillings were perfectly encased in a crispy, toasted sandwich. There was even extra crunch as the outside is smothered in a garlicky herby butter, which turns into the perfect golden brown coating.
It's a generous portion, too, with layers upon layers of roast dinner ingredients, all married together with Emmental cheese. But it's the gravy dipper which is an absolute game-changer.
Having now dipped my toastie in a pot of piping hot collection gravy, it seems bizarre that I've lived my life without accompanying every sandwich with a dipper. There is a quandary when it comes to eating it, though. To dip in whole or cut into smaller pieces? I opted for the knife tactic, splitting the toastie into four more bite-sized sections. I took my first square and immediately submersed it into the pot of gravy (tips of fingers and thumb included). The toastie was already moist and flavourful, but the gravy took it from a Christmas sandwich to a full-on Christmas day experience. I instantly had flashbacks to playing board games, arguing over the box of Quality Street, and the whole family bundled onto the sofa to watch the soaps.
I paired it with the Colin the Caterpillar Frappé (topped with a Santa hat) which was like a luxury chocolate mousse in a glass. A sweet dessert to wash it down, because Christmas calories don't count, right?
When Is the M&S Turkey Gravy Dipper Available?
From 1 November, the Turkey Gravy Dipper has been available in M&S Cafes nationwide. It isn't cheap, so it's definitely a treat rather than a lunchtime snack to have every day. But it will fill you up! The toastie is £6.50 on its own, plus an extra £1 for the gravy dipping pot. Available over the festive period, but watch this space. We have a feeling M&S won't be in a rush to lose it from the menu.